Processor: Any Intel® x86 compatible CPU
Operating system:
•Windows 2000;
•Windows XP (all editions) (both x86 and x64);
•Windows 2003 Server (both x86 and x64);
•Windows Vista (both x86 and x64).
The program doesn't work under Windows 9x,Me and NT!
USB controllers and ports: At least (1) USB 1.1 or 2.0 Controller
CPU speed: Recommended 1 GHz or faster – our software may run successful on certain slower CPUs but because of Windows overhead, performance test results will not be as accurate.
Memory: Recommended 256 MB.
Free disk space: Recommended at least 100 MB of extra disk space. Advanced USB Port Monitor takes up about 10 MB but additional space required for log files.
Special login requirements: You must be logged on as a user with Administrator privileges to run our software. It is necessary for access certain registry keys and write special filter driver registry entries.
Vista notes:
Because our software uses a kernel-mode driver for capturing an USB data, therefore:
1.You need administrator privileges to run our software;
2.The desktop icon of our software will contain a shield (pic.1);
3.Windows Vista will ask your permission to continue (pic.2).

Pic.1. Desktop icon on Windows Vista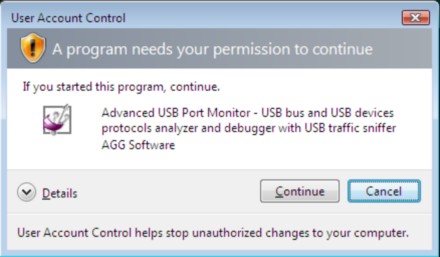 Pic.2. User Account Control dialog
You may disable User Account Control manager and you'll never see the dialog above. Please, search Google for an solution.